Mama DeLuca's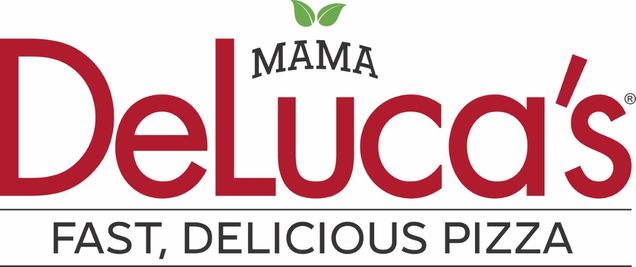 We've worked hard perfecting our recipes and services so you can enjoy the best pizza you'll ever eat. Choose the size that best fits your appetite! MAMA DELUCA'S® offers a Create Your Own pizza menu – pizza made the way you like it! As well as, signature specialty pizzas, such as the Chicken Bacon Ranch. MAMA DELUCA'S® restaurant also features breadsticks, boneless wings and pasta! There is something for everyone's tastes. At MAMA DELUCA'S® pizza, the choice is yours.
Customize Your Pizza
Bakes in 2 minutes or less
1 Choose Your Size
Small $6.25  (6 slices)
Medium $9.50 (8 slices)
Large $12.00 (8 slices)
---
2 Choose Your Sacue
Pizza Sauce
BBQ
Ranch
Buffalo
Alfredo
Garlic Sauce
Chipotle Southwest
Sweet Onion Teriyaki
Marinara
---
3 Choose Your Toppings
Extra Mozzarella
Extra Monterey Cheddar
Pepperoni
Bacon
Ham
Beef
Italian Sausage
Chicken Strips
Red Onions
Green Peppers
Fresh Mushrooms
Spinach
Pineapples
Jalapenos
Black Olives
Banana Peppers
Sliced Tomatoes
---
Boneless Wings

Plain
BBQ
Buffalo
Sweet Onion Teriyaki
Garlic Parmesan
Each Order is served with a side of ranch
Small
8-10 Pieces
$6.75
Medium
16-20 Pieces
$11.75
Large
24-30 Pieces
$16.75
---
Meal Deals & Drinks
$3.69 Meal
Meal includes: 5 boneless wings with dipping sauce & 21 oz fountain drink
$2.69 Meal
Meal includes: 2 breadsticks with dipping sauce & 21 oz fountain drink
21 oz Fountain Drink 
$2.29
30 oz Fountain Drink
$2.59
---
Specialty Pizzas!
Small $7.75
6 Slices
Medium $12.00
8 Slices
Large $15.00
8 Slices
BUTCHER'S BEST
Made with Pepperoni, Italian Sausage, Ham, Crispy Bacon, & Beef.
HAWAIIAN
Made with Pineapple, Ham, & Crispy Bacon with your choice of Pizza Sauce or BBQ Sauce.
BBQ CHICKEN
Made with Sweet BBQ Sauce, Grilled Chicken, Green Peppers, & Red Onions.
BACON DOUBLE CHEESEBURGER
Made with an extra portion of Beef, Crispy Bacon, Monterey Cheddar & Mozzarella Cheeses.
GARDEN RUN
Made with Green Peppers, Fresh Mushrooms, Red Onions, Black Olives, & Tomatoes
SUPREME
Made with Pepperoni, Italian Sausage, Fresh Mushrooms, Green Peppers, & Red Onions.
CHICKEN & BACON RANCH
Made with Ranch Sauce, Mozzarella Cheese, Grilled Chicken, & Crispy Bacon.